NICHE magazine and atHOME Victoria are off to Puerto Vallarta, Mexico and cannot wait to be staying in luxury beach front hotel, Garza Blanca Preserve Resort & Spa. With 79 hotel rooms and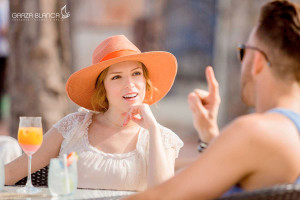 suites steps away from the clear blue ocean, this resort is equipped with all of your travel desires. Dark wood finishings, bold colour accents and terraces with woven hammocks are just some of the fabulous attributes of this resort. Some suites offer floor-to-ceiling sliding glass doors which offer an indoor-outdoor living experience. Surrounded by contemporary interior design with authentic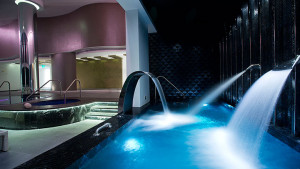 Mexican touches this hotel has many places where you can find yourself in total bliss. Infinity pools, the Hamara Spa which offers water therapy and relaxation rooms, private beach bars and a fantastic in resort restaurant – Bianca Blue which is known among locals for it's seafood and extravagant wine cellar are just a few of the many amenities. Garza Blanca has many other additions that make this resort a hot-spot for travelling celebrities.
The penthouse suite breaks the mold for luxury living which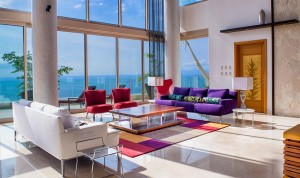 flawlessly blends cutting edge style with elegant comfort, favouriting geometric shapes and clean lines. This 5000 sq. ft. penthouse with magnificent high ceilings exposing the opulent living room and gourmet kitchen is capped with a stunning palapa roof on this duplex. The penthouse has three sophisticated en suite bedrooms, all which boast teardrop tubs, integrated steam room and shower, twin sinks and separate toilet. Complete with butler service, when staying in the penthouse you will think you have simply gone to heaven.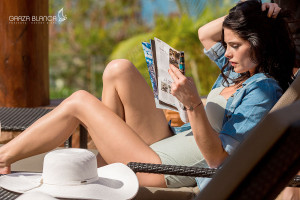 Celebrities that have stayed at the Garza Blanca include: Joe Manganiello, Eva Longoria, Mario Lopez, Vanessa Williams, Sara Ramírez, Ashley Greene, Anna Kendrick and more. 
For more info on the resort click here
Follow at HOME Victoria and NICHE magazine on Instagram and Twitter to join us on our trip to Puerto Vallarta and stay at the Garza Blanca!