So, you have landed in Toronto, Canada and you are wondering what to do. Well, fortunately Toronto happens to be one of those cities that has no shortage of great things to offer its lucky visitors. From bars, live sports and entertainment, culture, food and fun nights to be had by all, here are five of the best things you can do with your time while you are in Toronto.
Candyland
Right in the epicentre of Toronto's clubland, you will find the recently opened, but instantly legendary, Candyland. Instantly, its appeal is clear and apparent, it's a bar and a dining room but with an added concept of coolness and theatre themed dining. The cocktail bar takes the idea of mystery dinner theatre where, as you eat and drink, Cirque du Soleil style acts such as contortionists, trapeze artists and burlesque dancers, randomly emerge throughout the evening and perform live in front of the bar's patrons. At $20 just for entrance, it isn't cheap but, even if it really doesn't sound like your kind of thing, embrace the vibe and you will be sure to enjoy yourself, instantly forgetting all about the entrance fee.
Toronto Maple Leafs, Air Canada Centre

Toronto Maple Leafs are a world famous National Hockey team and, with hockey being the national sport of Canada, Toronto's Air Canada Centre is the country's number one sports and entertainment venue. It became home to the Mighty Maples in 1999 and hosts a 19,800 capacity, which is regularly maxed out. It really is worth putting on your to-do list while you are in town as this is about as authentically Canadian as things can get. Be prepared though, this sport is one of the most volatile and is forever blowing up into a fight. This, in turn, gets the crowd pumped and generates an awesome and intoxicating atmosphere that is rowdy but never threatening. The hockey season runs in the winter so bare that in mind when planning your trip. That said, both the Toronto Raptors basketball club and the Toronto Rock lacrosse team also play their home matches here, keeping the venue, which also hosts concerts, shows, festivals, trade shows, busy all year round.
Casino Niagara
Inner city Toronto, has only one casino, and that only opens temporarily and annually so most locals looking for casino fun, head out of the city in a search to satisfy the thirst for thrills. If you are visiting the city, don't worry, nearby casinos can be found in other tourist hotspots such as Niagara Falls, just a short hop over Lake Ontario. Here, you will find Fallsview Casino and Casino Niagara, which is tried and true spot for those with a penchant for poker, like Toronto's own Daniel Negreanu. There is much to do here beyond poker of course, such as a ton of alternative gaming options, including 1,300 slot machines over two floors, and 30 table games for blackjack and roulette, Mississippi Stud, as well as offering multi-sport wagering, and live entertainment which includes free live music over the weekend, putting the 95,000 square feet to excellent use. But if you can make this prestigious establishment there are plenty of ways you can get involved online. With many sites out there offering the same table games and like poker there is no reason why you can't win real money whilst being in the comfort of your home.
Bad Dog Comedy Theatre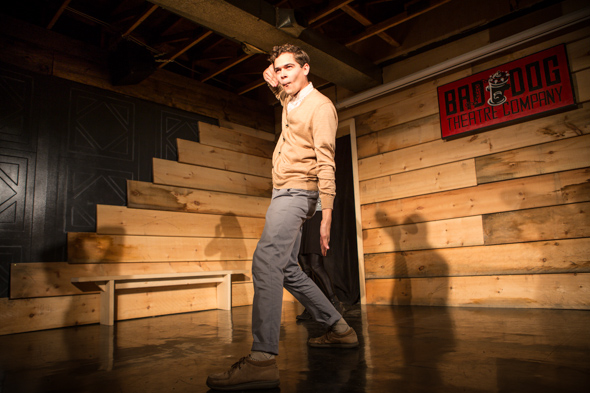 The Bad Dog Theatre Company is an award-winning Toronto theatre company that have opened their own Bad Dog Comedy Theatre in the heart of the city. The comedy club is home to Toronto's longest running improv show, Theatresports, and also offers comedy workshops for youth, beginners and advanced wannabe comedians. The theatre's lobby comes with a well-stocked bar, practically essential for a night out, that offers comedian-appropriate deals and some light bites. The venue has 64 seats that flank both sides of the stage, which is useful if you're planning on heckling and also helps to generate superb acoustics. The new Bad Dog Comedy Theatre is an excellent night out and a great place to see some of the best improvisation comedians Canada has to offer or even get involved yourself.
The Cloak Bar (Under Marben)
Toronto's famous Marben restaurant makes for a fine night out itself, if a pre-evening meal is your thing. But, down the stairs at the back, behind a velvet curtain, you will find the Cloak Bar, a fascinating cocktail joint. It's a cosy, almost British pub style bar, that's geared towards trendy cocktails, unlike anything else in the city. The interior is filled with rustic antiques and rugs while the glassware comes from all over; China, Europe, Mexico and other parts of Latin America. It isn't just the fixtures and fittings that are internationally influenced, however. The bar's menus also draw in themes and flavours from all over, London and Mediterranean nations, but also much closer to home places such as Quebec and New York. These 40+ cocktails are all laid out in detail in the themed drinks menu which is worth a visit to Toronto alone. A separate bar menu is available too, with maybe 8 or 10 great bites on offer, all made with local Ontario ingredients naturally.