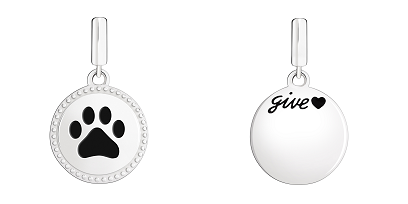 As part of its "Give With All Your Heart" program, Chamilia (www.chamilia.com), a Swarovski company, announced the launch of a new charm that will support Humane Society International (HSI), one of the only international animal protection organizations in the world working to protect all animals—including animals in laboratories, farm animals, companion animals, and wildlife.
 
"When we were interviewing potential partners for our 'Give With All Your Heart' campaign, it was imperative that animal protection be included in our initiatives," said Chamilia Vice President, Global Merchandising and Marketing Catherine Ottaviano. "Humane Society International is doing outstanding things for animals worldwide. Their mission and values are deeply supported by many of our customers. We create jewelry that represents consumer values and this is certainly one of them." 
 
The delicately sculpted sterling silver charm created for this initiative highlights an artistic rendering of a paw print in black enamel. The charm is framed with Chamilia's signature millegrain pattern and fits any Chamilia bracelet or neck chain. Each charm is sold with a keepsake charm card, and $4 from each purchase will be donated to Humane Society International.
 
"We are thrilled to collaborate with Chamilia in the 'Give With All Your Heart' campaign," said Kitty Block, Senior Vice President of Humane Society International. "Sales of this beautiful charm will help us protect animals and fight against animal cruelty worldwide. We thank Chamilia for making animal protection part of their charitable initiative."
 
HSI works to break down the barriers to animal protection in an effort to create a global culture of compassion for all animals with support programs launched from its international offices in Australia, Brussels, Canada, Costa Rica, India, Mexico, the United Kingdom and the United States. The organization serves a critical and expanding role in global efforts to reduce animal suffering. Through fieldwork, policy formation, humane education, direct care and services, and funding of in-country partners, HSI has helped advance the cause of animal welfare in dozens of nations worldwide.
 
There are more than 400 exclusive charms available from the Chamilia brand. The line is made from sterling silver or 14 karat gold and features genuine Swarovski Crystals, Swarovski Zirconia, or Murano glass. The brand follows strict Swarovski guidelines for quality and aesthetic standards.
About Chamilia
 Based in Cranston, RI, Chamilia is an American company that was established in 2002. Since its purchase in 2013, it has been a member of the Swarovski Group, a world leader in quality and innovation. Each of the more than 400 exclusive charms available from the brand are made from .925 sterling silver or 14 karat gold and feature genuine Swarovski Crystals or Zirconia, or Italian Murano Glass. The brand follows strict Swarovski Group guidelines for quality and aesthetic excellence. For more information, please go to www.chamilia.com.
 
About Swarovski 
Swarovski delivers a diverse product portfolio of unmatched quality, craftsmanship and creativity. Founded in 1895 in Austria, Swarovski Crystal Business designs, manufactures and markets crystals, natural and created gemstones, finished products such as jewelry, accessories and lighting. The company's film division, Swarovski Entertainment, produces artistically accomplished feature films with global box-office appeal. The Swarovski Foundation was set up to honor the philanthropic spirit of the company by supporting creativity and culture, promoting wellbeing and conserving natural resources. Now run by the fifth generation of family members, Swarovski Crystal Business has a global reach, with over 2,350 stores in about 170 countries and more than 25,000 employees, www.swarovskigroup.com.