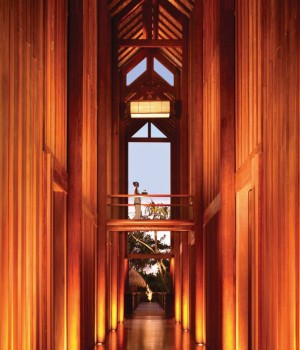 NICHE talked with the good folks at Tahiti Tourism about the magical allure of Bora Bora. An island with a lagoon resembling an artist's palette of blues and greens, Bora Bora is love at first sight. Romantics from around the world have laid claim to this island where the castle-like Mount Otemanu pierces the sky. Lush tropical slopes and valleys blossom with hibiscus, while palm-covered motu circle the illuminated lagoon like a delicate necklace. Perfect white-sand beaches give way to emerald waters where coloured fish animate the coral gardens as they greet the giant manta rays. From the dramatic scenery to the privacy and amenities of the overwater bungalows, Bora Bora is the most romantic island in the world.
Eco Chic in Bora Bora
On this mystical island with its necklace of white-fringed coral islets, Four Seasons Resort Bora Bora redefines the South Seas escape. Exotic over-water suites, sprawling beachfront villas with pools and a cathedral-like spa immerse you in ultramodern comforts and the warm and welcoming spirit of French Polynesia.
What's in a name?
Pora Pora – the ancient name, meaning "first born," came from legends describing this as the first island to rise when Taaroa, the supreme god, fished it out of the waters after the mythical creation of Havai'i, now known as Raiatea. Although the first letter "B" does not exist in the Tahitian language, when Captain Cook first heard the name he mistook the softened sound of the Tahitian "P" for "B" and called the island Bola Bola.
By Elizabeth Dean – from NICHE Winter 2013