Quebec's Hôtel de Glace brings new meaning to the term winter wonderland. Set in the pristine icy banks of Quebec City, this world renowned seasonal hotel is structured from an impressive 500 tons of ice and 15,000 tons of snow. Hôtel de Glace has been a tourist hotspot in the area for more than 10 years; travelers coming from near and far to marvel, experience and just chill out. Here's why…
While some may see this chilly retreat as a once-in-a-lifetime romantic escape, others [myself included] don't exactly warm up to the idea of sleeping in an ice chamber whose temperature sits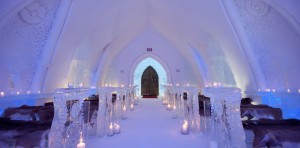 between a crisp minus 3 and minus 5 degrees Celsius throughout the night. For those willing to brave the cold, the architectural brilliance of the guestrooms probably leads to an evening of fairytale – night you will never forget – magnitude (although admittedly I never got that daring!). For the rest of us, the Hôtel de Glace offers tours of the magnificent structure, showcasing its icy artwork and offering a chance to sip vodka from an ice-carved vessel.
Each year, the construction of the hotel begins in early December and for six weeks a team of 50 snow savvy professionals work tirelessly to realize their frozen glassy empire. Every minute detail is carefully considered, painstakingly planned and visually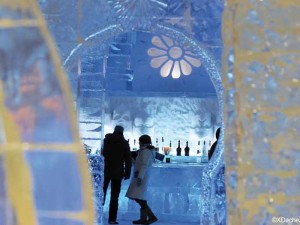 perfected from snow or ice. Chandeliers, tables, chairs, beds, glasses, a wedding chapel and a variety of other celestial sculptures make this castle a winter must-see in the city. Visitors can simply gaze upon the details of this striking art form, belly up to the extraordinary bar with a 400-person capacity, or try an exhilarating slip down the Grand Slide.
Before you go: All beds have a solid ice base with a wooden bedspring and a mattress on top. Mattresses are covered with
blankets, and guests sleep inside arctic sleeping bags designed to stay warm in temperatures as low as – 30° celcius. Hotel de Glace recommend that you slip inside your sleeping bag wearing just thermal underwear to keep humidity to a minimum.
By Sheila May – NICHE Magazine Winter 2013