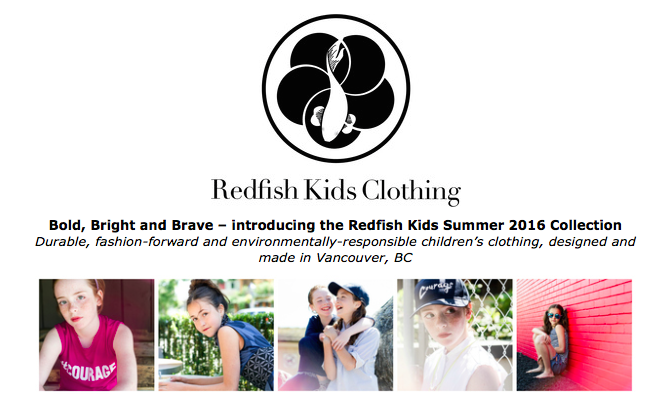 Redfish Kids proudly launches their Summer 2016 Collection, inspired by vibrancy of summer – fresh produce at the farmers market, playing barefoot in the lush green grass, plunging into a brilliant blue lake; nature at its finest.
Every item in the 35 piece collection is designed and made in Vancouver BC, under the watchful eyes of co-owners Kristy Brinkley and Lorraine Kitsos. Using high quality fabrics in an array of vibrant patterns – including soft organic cotton and bamboo – families will love the eclectic and dynamic colours, free-moving styles and durability of wear.
"We wanted the Summer 2016 Collection to exude the warmth, vibrancy and carefree nature that summer brings with it," says co-owner Kristy Brinkley. "Deep colour saturation, architectural lines with plenty of movement and fun fabrics but with the Redfish guarantee of durability and endurance."
Popular returning classic silhouettes include the Skater Short, Sleeveless Hoodie and the iconic Redfish Swing Dress. New styles include the Millie Dress for toddlers to tween, and a Baby Kimono in Blue Tofino – the first baby kimono designed with little boys in mind.
Favourites from the 2016 Summer Collection, available online and in the Redfish Hornby Street and Dundarave stores, include:
Kelly Skirt in Sweet Lime ($54)
A Redfish favourite with a punchy new hue, the Kelly Skirt has a voluminous silhouette and ruched drop waistband, which truly grow with little ones.
Swing Dress in Geometric Floral and Flight ($54)
Two contrasting patterns that are sure to be a hit, one with whimsical sparrow detail the other with a bright, geometric motif.
Millie Dress in Electric Blue Floral ($78)
By popular demand, Redfish has introduced the Millie Dress for ages 2-8, with the same structured silhouette and contrasting tie detail.
Marni Dress Shirt in Blue Tsunami ($58)
This fashion-forward oxford style short sleeve is sure to make a splash on the playground!
Skater Short in Lime Green ($42)
Inspired by the super-cool skateboarder style, the Redfish Skater Shorts fall below the knee and have an elastic waistband to ensure a secure fit and room to grow.
Baby Kimono in Blue Tofino ($48)
A delightful Baby Kimono onesie designed with little boys in mind, with a vibrant deep blue motif.
Baby Kùzi Pant in Navy & Lime ($36)
These slouchy pants are equal parts style and comfort! A relaxed fit with a tapered leg and harem style inseam, these pants will be a favourite with little ones.
Visit the store or www.redfishkids.com to view the full Summer 2016 collection, alongside a number of curated brands handpicked by the Redfish Kids team – including Mini Moc, Baggu, Oeuf NYC, Gunner & Lux, Love Me Baby and Etiquette Clothiers.
Redfish Kids Clothing has two Vancouver flagship locations – 851 Hornby Street and 2474 Marine Drive in Dundarave both open 10am to 6pm Monday to Saturday and 12noon to 5pm on Sundays. Redfish Kids ships worldwide via their online store – www.redfishkids.com.
About Redfish Kids Clothing
Locally made in Vancouver, Canada and 100% sweatshop free, Redfish Kids Clothing was co-founded by Lorraine Kitsos and Kristy Brinkley. Born of a desire to create clothing with "heart", Redfish Kids Clothing is committed to quality materials, handpicked from around the world, to local craftsmanship and zero in-house waste. Redfish Kid's "Clothing for the Courageous" motto reflects the brand's commitment to children and serves as a celebration of their courage, creativity and unlimited potential to shape the future. Designs are versatile and durable, allowing freedom of movement for fun and play.