Every season Karl Lagerfeld transforms the Grand Palais into a fabulous installation for his Chanel runway shows, this season it happened to be a zen garden and modern dollhouse. The mood of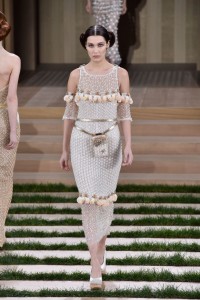 soft serenity was shown in ruffles of blush pinks and delicate embellishments. Lagerfeld reinvented the current cape dress trend into the "must-have" sparkling translucent Chanel cape. Classic tweed pieces were revisited and paired with light maxi skirts of sleek fabrics. The Chanel two piece suit was shown on the runway, timeless as ever. Lagerfeld cast "it-girl" Kendall Jenner and the dynamic duo, Gigi Hadid and Bella Hadid in his runway show. Each model wore the same style shoe, round-toe cork wedges that were shown in multiple colours. Lagerfeld cast one of his male muses to walk in the couture show, Baptiste Giabiconi who rocked a Chanel tweed jacket and patchwork trousers. It's inevitable to talk about the models "Chanel croissant" hairstyle by hairstylist Sam McKnight which was timeless, yet almost another worldly.
Check out some of our favourite looks from the show including the stunning set.