Ralph Lauren represents so many things in North America that it is impossible to discuss just one facet of his life without doing the person he is, and the empire he's created, an incredible injustice. Lauren's work is a documentary of his life. A story he's written through design about
his wife, his children, his homes, his love of wilderness, his desire for the American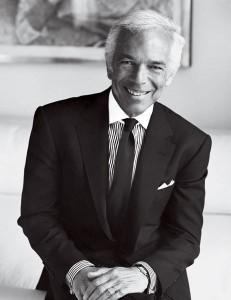 dream. Dubbed America's most famed designer with an empire worth 12 billion dollars, Lauren has been described as one of the least pretentious celebrity figures. He expressed his life through design, and America simply fell in love with it.
Born Ralph Lifshitz in the Bronx, New York in 1939, Lauren's relationship with the design world began at a young age when he developed an appreciation for work clothes. Lauren had a particular admiration for safari jackets and military surplus, because they had been lived and worked in, they were made for real life and real people. Lauren never went to fashion school, he just had something inside of him that he needed to express, and he found his outlet in clothing. His preference for livable, every day, sportswear inspired the brand Polo.
The pivotal moment in Ralph Lauren's career was a neck tie in 1967. As a young man he was employed by a tie company and had several design ideas of his own. After the company he worked for rejected his offer to design for them, Lauren convinced a reputable tie company out of Cincinnati, Ohio to take him on. They agreed, and gave him a single drawer in the Empire State Building to work out of. Lauren found a small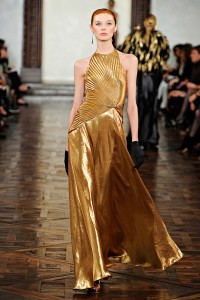 manufacturer to make his designs and he, his wife Ricky and her parents would sew the legendary Polo name onto them. When Bloomingdales offered to buy Lauren's ties but would change the branding to their own, he rejected the offer. Six months later, Bloomingdales called him back and agreed to sell the ties under the Polo name. Ralph Lauren has gone on to be the largest selling designer in the world with 452 stores in 80 countries.
Time Line
1967 – Works out of a drawer in the Empire State Building and sells $500,000 in ties his first year in business
1968 – Launches menswear line
1969 – Opens first Polo by Ralph Lauren shop in Bloomingdales, NYC, which is also the retailers first 'store within a store'
1972 – Launches his first complete women's wear line, inspired by wife Ricky
1974 – Releases The Great Gatsby – men's wardrobe by Ralph Lauren
1976 – Launches boys line, with a girls line the following year, inspired by his children
1977 – Receives the Coty Hall of Fame award for his womens wear collection
1981 – Opens first Polo store outside of the uSA in London Launches Ralph Lauren Home Collection
1983 – Wins the CFDA Lifetime Achievement Award and it is presented by Audrey Hepburn
1992 – Becomes a publicly traded company
1997 – Establishes The Polo Ralph Lauren Foundation and the American Hero's Fund
2001 – Becomes official outfitter for Wimbledon
2006 – Becomes the official outfitter for the uS Olympic team and uS Paralympic
2008 – Receives the Key to the City from the mayor of NYC
2010 – Receives the Key to the City from the mayor of NYC
LAST WORD 
…on the topic of fashion, style and movie stars
"What matters the most to me are clothes that are consistent and accessible. When I look at the people I've admired over the years, the ultimate stars like Frank Sinatra, Cary Grant and Fred Astaire, the ones who last the longest are the ones whose style has a
consistency, whose naturalness is part of their excitement. When you think of the blur of all the brands that are out there, the ones you believe in and the ones you remember, like Chanel and Armani, are the ones that stand for something. Fashion is about establishing an image that consumers can adapt to their own individuality. And it's an image that can change, that can evolve. It doesn't reinvent itself every two years."
By: Shelia May NICHE Magazine Summer issue 2013