We all want what we can't have. And if you say no, I say LIES! I myself want luxurious, long, voluminous, curly hair that looks good blowing in the wind. Seriously. Mariah Carey can do it, so can Sara Rose. So let's discuss
working with what you've got and finding ways to enhance what you want – to a certain extent that is. We don't want to approach the world where scare tactics are our beauty tactics.
Eyes, cheeks, lips, nose, skin, lashes, brows. When browsing magazines checking out all of these fabulously flawless airbrushed models and actresses, what catches your eye? Who do you look towards for style inspiration? For myself (besides Mariah's flowing locks), I yearn for the glistening accents of dewy skin, and that is what I love to work towards. Spending years in frustration or upset with what you don't have is not the way forward. Start to see the beauty in what you were gifted with.
Begin with your basics. We all have a canvas so let's figure out how to achieve two of the most distinctive looks. Whether you are after the glam Kim Kardashian polish or the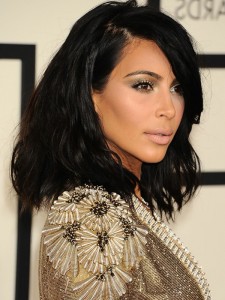 youthful dew of grungy Charlotte Free, there are a few mandatory starting points. First, have you cleaned your canvas and makeup brushes? For that matter do you own brushes? Makeup brushes will make a huge difference in your daily application. Five minute face, meet five simple brushes. Admittedly, your collection will grow but for now begin with a foundation, powder, cheek, brow and shadow brush.
For those Kim K. polished princesses let's learn to layer. Beneath your batting lashes begin on the under eye and make use of a luminizing pen or product, which traditionally has a built in brush for use. This will be the beginnings of awakening your sleeping beauty. Next is to find a dense foundation brush to beat that beauty on your face. A full coverage foundation, such as Estee Lauder Double Wear or Stila Stay All Day Foundation and Concealer, are precisely what you need. Apply as you see fit, don't forget to blend through the jaw region, we've all seen that mismatched foundation line which we are definitely not going for. Carry on to translucent powder (with a fluffy powder brush or puff), which works wonders in perfecting your work of art, so powder on. Note: Veer away from your under eye as powder can emphasize lines.
Next, begin the true transformation by sculpting or contouring your features such as cheeks, nose and jaw line with a sculpting powder. This technique is best done with a dense, slanted brush, as you don't want defined lines, you want blended shadows. Although you may feel a bit colourless at this point, carry on to your brows which work as the best structural enhancer. Whether you prefer a brow powder or a brow pencil, both will capture perfection.
EYES
Here is where things can get tricky: the eyes. Get creative. Pair a cat eye liner with a pouty matte nude lip. Blend out a smokey eye to vamp up the vixen within. Polished princesses rely on the highlight and contour techniques, so begin basic. This is not judgment day, so play around with it and work what you've got!
GRUNGE inspiration
Our Charlotte Free grunge look is a bit easier to achieve and focuses on youthful, light,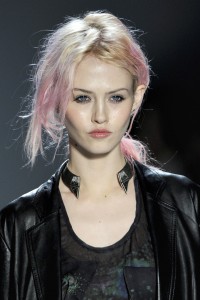 dewy skin. This is where you will be using BB creams, radiant light foundations or tinted moisturizers. The age of grunge is back and I'm loving every minute of it! Don't see the word BASIC as a bad thing as it flows with BEAUTIFUL, which is what you can achieve.
Choose a dense, fluffy foundation brush so buffing in your beauty is not a struggle. Keep your application light, unless there are some face foes in need of hiding. Get your hands on a brow brush as accentuating your brows, darker and fuller, will draw the best kind of attention. And if this is not enough, work with lip stains and balms to brighten your pout, paired with either a flash application of mascara or a smudged cat eye. Your party girl will be ready to rock from day to night.
Although you may be shaking your head in self-denial in achieving the above looks, I have faith in your abilities! Begin with the basics and go from there.