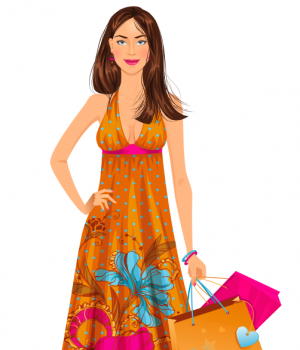 The season we expose our legs to the world is here! Some of us confidently bare our limbs, while others worry about whether or not we can look great in those skimpier summer styles.
Well ladies, when it comes to shorts, dresses and skirts, there is a perfect summer style for everyone. Here are my tips for looking gorgeous from the waist down this summer.
1. There are so many choices for summer skirts! They will look best, just below or above your knee. Shape is important; consider an A-line to balance a smaller lower body, or a pencil skirt for showing off curves. My favorite style right now is the high-low skirt. It hits above the knee at the front and flows out longer at the back, perfect for most body types.
2. Comfortable going short? Find shorter pieces that hit about mid- thigh, make sure you can sit, bend and reach without revealing too much before you buy! Look for slightly longer styles if you have a curvy bottom or long torso, short pieces will be even shorter for you. And of course, if you have to ask "is this a dress or a shirt?" it's a shirt.
3. Long Maxi style dresses look great on most people so they are an easy choice for summer. If you are petite, try pairing with a wedge heel to get a taller-than-usual look!
4. Avoid capris that hit the middle of your calf if you have short legs. To make your legs look longer, try straight leg ankle pants, or Bermuda shorts that hit just above the knee.
5. Now for your summer shoe selections! I love wearing summer outfits with a comfortable pair of nude wedges that have few or no straps to make legs look longer. Soft metallics are a great choice and will go with everything in your closet. Avoid dark colours and thick ankle straps that make legs look short.
Still not ready? Try a self-tanner to give yourself a confidence boost and even out your skin tone. With a fresh sun kissed look there are no excuses left to cover up.
Now let those legs out!
By: Erin Bradley NICHE Magazine Summer issue 2013