The area surrounding the city of Venice is flourishing with flavours that could be easily described as unique, diverse and abundant. For many years, the port of Venice was a centre for trade of both products and culture. The city was truly an Italian gateway to and from the rest of the known world. Now more famous for its canals, architecture and romantic tourism, Venetian wine and food culture still thrives in true Italian fashion.
At first glance, the diversity of the wines produced in the area surrounding Venice can be slightly daunting. You will want to enjoy the many selections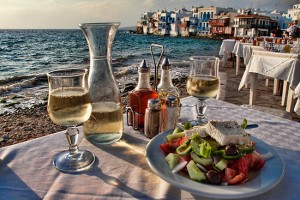 from the neighbouring regions known as The Tre Venezie: Veneto, Trentino- Alto Aldige and Friuli-Venezia Giulia. At second glance, stimulation of your imagination and sense of adventure are reaching new peaks.
Your journey would likely begin in a wine bar full of locals, and your mission would be to experience "what the locals drink". It would be amazing if we could easily identify with a Tocai Friulano from the Colli Orientali del Friuli or a Recioto Della Valpolicella from the Veneto region. Pardon me? We are obviously speaking a foreign language here. Also, asking for help might prove difficult. Confidence building, you would ask a bartender for one. You know you would have taken the safe way out and not truly experienced one of the unique or more interesting local wines, but you would be better poised for more adventure after the first glass. Now you would come to realize why Pinot Grigio is so popular worldwide!
Delving deeper, you might want to taste a Soave Classico (white), Valpolicella Classico (red), or Amarone Della Valpolicella (big red) from the Veneto region, or a Pinot Bianco (white) or Cabernet and Merlot (red) blends from the Friuli region. And let us not forget to check out the increasingly popular and diverse Prosecco from the Conegliano – Valdobbiadene region (white sparkling).
Now I'm getting hungry…
Many have described the food in Venice as a strange and intriguing mixture of Spanish style seafood, preparation techniques often seen in France, and many traditional, home-grown dishes that can have quite hearty portions. Flavour and culture are diversified by its international port location.
Most Venetians will enjoy spending their evening out moving from bàcaro to bàcaro – little stand up wine bars, taking pleasure in tasting size glasses of wine and eating cichèti – Venetian style tapas. Ah yes, cultural thoughts of Spain come to life. While sipping wine, you might snack on toast points with codfish, garlic, parsley and olive oil, polpette (finger sized portions of potato and veal meatballs), assorted olives, and a local favourite, risi e bisi. This dish consists of a mixture of pancetta bacon and pea risotto served as a hearty soup.
Pair Risi E Bisi with a glass of Soave Classico and a view of the many canals, and you are truly feeling venetian lifestyle
And don't forget about our good friend Prosecco. We are so used to only enjoying sparkling wine for celebratory or special occasions, but these fantastic bubbles compliment cichèti splendidly. Try Prosecco with the sardelle in saorsardines marinated in vinegar, caramelized onions, pine nuts, raisins and Eastern spices or with folpeto – a tiny boiled octopus seasoned with a delicate and aromatized extra-virgin olive oil and lemon.
If you are a lover of red wine, and we all should be, you will want to appraise another local dish of polenta – creamy cornmeal, served with fegato alla veneziana- calves' liver and onions or some tramezzini – sandwiches in soft dark bread, filled with pork or salami. Wash this down with some of the Valpolicella Classico from the Veneto region or even some great Pinot Noir from the Trentino-Alto Aldige region up north.
By: Stuart Brown – NICHE Magazine Winter 2013